System Test Manager
Location: Novi Sad
OUR COMPANY
As one of the leading automotive suppliers worldwide, we develop products and solutions to fulfill people´s dreams of mobility every day. Driver safety, comfort, sustainability and industrialization of future technology are just some of our key fields where we already make a meaningful difference in people`s lives. Knowing our innovations help to make the world a better and safer place is what drives us.
JOB DESCRIPTION
System test activities in the automotive industry represent a key component in the product lifecycle due to the importance of having products that are safe and secure. Each individual dealing with this role has a contribution to the millions of lives saved every year by the intelligent systems that are present in the vehicles surrounding us.
As a system test manager, you will have the chance to coordinate and drive test activities assuring outstanding quality, with the latest automotive-specific tools, on the newest, most interesting and diverse products on the market (Tire-Pressure Monitoring Systems, Fully Digital Instrument Clusters, Car Key Fobs, Digital Tachographs, Sensors, Radars, Body Control Units and many more).
In your day to day job you will do:
In-depth analysis of customer requirements
Budget estimations, tracking and reporting
Creation of test plans
Monitoring of test activities
Leading test Automation by using automotive industry-specific tools (internal and external)
Leading execution of tests and generation of test reports according to the defined test process
Issue reporting and tracking by using specific tools
Collaborate with the Project Test Manager, Project Manager, Software Development, EE Development, ME Development and Quality Engineer in verifying and interpreting the test results
Ensuring necessary test setups and test environments tailored for each specific product
Improving test processes
Find out more about Continental:
www.careers-continental.com | www.facebook.com/ContinentalCareer | www.continental-people.com
QUALIFICATIONS
Relevant University Degree (i.e. Electronics, Telecommunications, Computer Science)
At least two years of experience as a test lead on software or system projects (supporting requirements analysis, coordination responsibilities, tasks assignment and monitoring, application test development and execution, test automation)
Basic knowledge in programming and microcontrollers
Knowledge of agile methodologies
Knowledge of serial networks and communication protocols (i.e. GSM, GPS, Bluetooth, CAN, LIN) is considered a plus
Knowledge in understanding and interpreting HW schematics
Knowledge in handling equipment for measurement and control (i.e. Oscilloscopes, Signal Generators)
Excellent English communication skills
WHAT WE OFFER
A dynamic team in a globally active organization
Competitive pay and a comprehensive benefit package
Professional development opportunities
Flexible working hours and mobile work (4 days per month)
Private health Insurance
Fitpass premium
If you are interested in this job position, you can send us your resume and letter of application in English language via poslovi.infostud.com. Application deadline is 10.04.2020. Only short listed candidates will be contacted.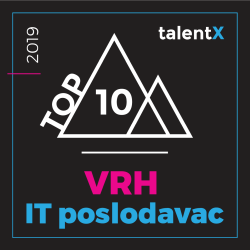 Intervju za ovu poziciju će se realizovati online putem