System Integrator/DevOps
Function: Software | Location: Novi Sad
OUR COMPANY
As one of the leading automotive suppliers worldwide, we develop products and solutions to fulfill people´s dreams of mobility every day. Driver safety, comfort, sustainability and industrialization of future technology are just some of our key fields where we already make a meaningful difference in people`s lives. Knowing our innovations help to make the world a better and safer place is what drives us.
JOB DESCRIPTION
As a part of our team, you will use state-of-the-art technologies to bring future vision of automotive world to the streets today.
Solution that your team is developing opens the door to many advanced services that require connected vehicle concept and future use-cases which don't even exist today.
You will collaborate with a diverse international team of experts and would be able to see the positive impact of your work on streets around the globe.
In your day to day job you will be:
Doing activities including: concept of operations formulation, requirements definition, system analysis and design, validation and verification, system and operational performance analysis.
Participate in review of system and sub-system level documents such as specifications, traceability analysis and testing protocols
Assist with software integration and troubleshooting, including management of dependencies on services, platforms, and other applications within the cloud infrastructure
Produce internal documentation such as risk management or design implementation, integration and test protocols and reports
Evaluate full system performance, understanding the contributions of relevant sub-systems, providing feedback to development teams
Validate and ensure complex integrated change/modification/extension requests are vetted against the overall design and will deliver the desired solution performance
Work on DevOps processes and tools supporting application development teams in continuous integration, test, and deploy methods
Create DevOps process automation and tooling to implement standards and boundaries in a way that empowers the application development teams to help themselves with their infrastructure and deployment needs
Keep up to date with developments in technology, and DevOps fields and make our team aware of possible applications for new technologies and methods
Develop, maintain and improve a continuous integration/continuous delivery (CI/CD) for delivering features, fixes and system updates in development, integration and production environments
Develop and automate application end-to-end or unit testing to ensure stability during continuous integration
Find out more about Continental:
www.careers-continental.com | www.facebook.com/ContinentalCareer | www.continental-people.com
QUALIFICATIONS
Strong DevOps skills
Ability to decompose complex problem, troubleshoot issues and present solutions
Ability to positively engage, self-motivate and possess a strong desire to learn
Good communication skills - verbal and written
A consistent track record of delivering software appliances that are reliable
A strong understanding of distributed systems
Experience analyzing requirements and implementing/executing test strategy to ensure that developed software solutions meets corresponding acceptance criteria
Experience with automated test, build, and integration techniques
Hands on experience analyzing and tuning application performance on cloud infrastructure and on-prem platforms
Hands-on experience in system design and integration
Experience with Middleware and/or SOA base implementations
Experience in software development life cycle, test driven development, CI/CD
Experience with monitoring tools
WHAT WE OFFER
A dynamic team in a globally active organization
Competitive pay and a comprehensive benefit package
Professional development opportunities
Flexible working hours and mobile work (4 days per month)
Private health Insurance
Fitpass premium
If you are interested in this job position, you can send us your resume and letter of application in English language via poslovi.infostud.com. Application deadline is 01.04.2020. Only short listed candidates will be contacted.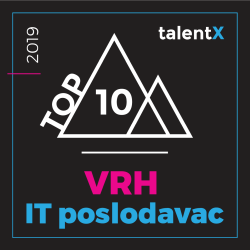 Intervju za ovu poziciju će se realizovati online putem