Senior Data Scientist
29.04.2021.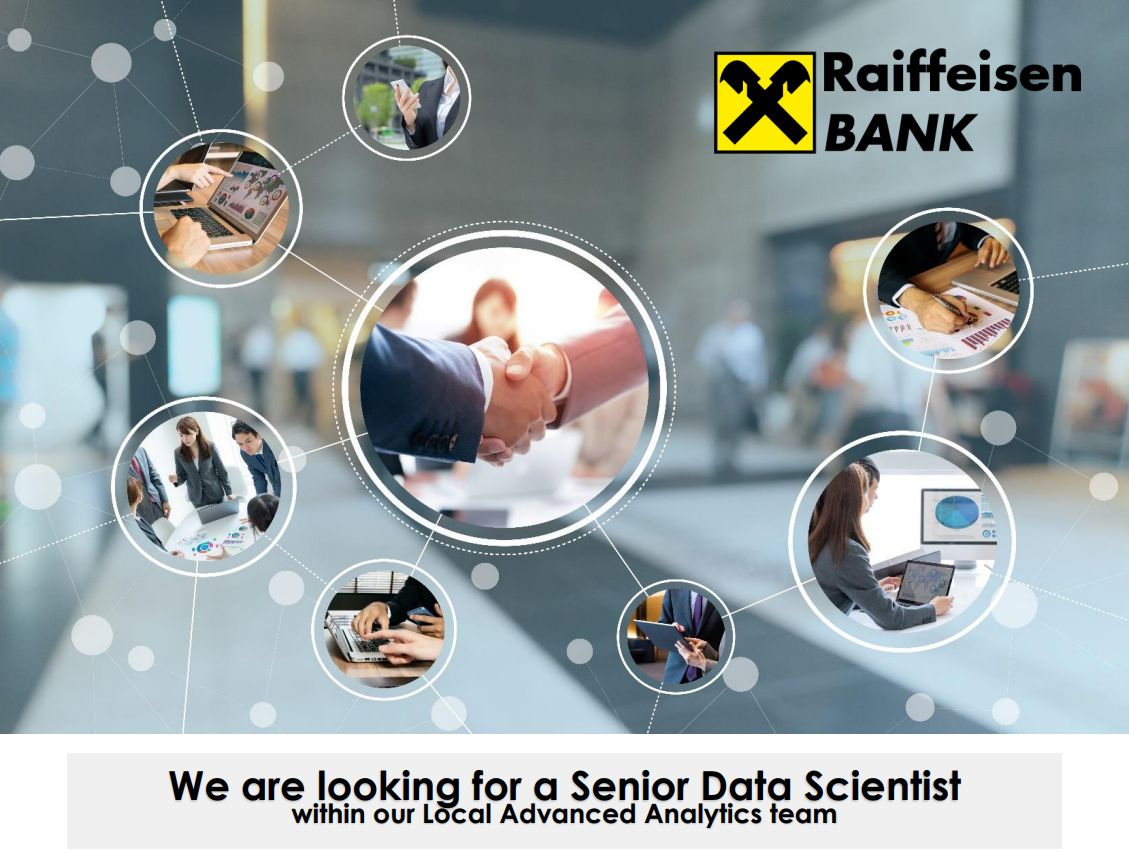 Do you want to work in a young and dynamic team united around data and customer centricity? Are you passionate to apply Data Science techniques and methodologies for solving real business challenges? Are you ready to shape the future of the financial industry by using advanced technologies? Then you are the right person for our team!
Having a strong customer recognition and being a digital leader on the market, Raiffeisenbank a.d. is seeking to extend its Advanced Analytics Team to drive analytical transformation of the Bank. We are looking for ambitious candidates who will support us in our productive environment to:
Drive development and productionalization of new banking solutions with the help of data science
Be the mastermind in practical application of machine learning solutions using state-of-the-art technology
Contribute to the bank adoption of data-driven culture & becoming the most recommended financial institute
You will be part of our adaptive set-up where data scientists, colleagues from IT, as well as business experts work together on use cases.
What your job will look like:
Execute a wide range of use cases across various businesses and stakeholders
Actively involve yourself in preparing / manipulating data together with IT
Predict customer behavior, conversion probabilities, churn rates, define target groups, support top-notch customer experience by the usage of Machine Learning & Advanced Analytics
Work with the state-of-the-art cloud and on-premise infrastructure (e.g. AWS, Dockers, GitLab)
Translate data analysis findings and research results into concrete business insights
Visualize and report data findings creatively in a variety of visual formats
Help business understand outputs of ML models and successfully incorporate them in real-life processes
What you bring to the table:
You have a BSc in Statistics, Mathematics, Computer Science or similar field
Proven experience as a data scientist (3+ years); experience in financial industry is a plus
You have profound understanding of statistical inference and machine learning techniques (e.g. regressions, decisions trees, cluster analysis, neural networks), their pros and cons
You come with good scripting skills (Python, R) and knowledge of the most popular machine learning libraries
You have extensive experience in data gathering & manipulation (e.g. querying, aggregating and filtering data using SQL, writing PySpark codes)
You like to explore, hands-on mentality is appreciated
You are a communicative person with the ability to work collaboratively as a team player with people at all levels
You have the ability to communicate complex ideas effectively and you can stand and deliver criticism in pragmatic manner
You are fluent in English, spoken and written
What we offer:
You'll work in a young and agile team at a leading banking group
You'll benefit from the tailored professional development
You'll earn a competitive salary
If you are interested in joining our dynamic team, please apply electronically.