Senior Backend Developer & Operation Engineer
10.08.2020.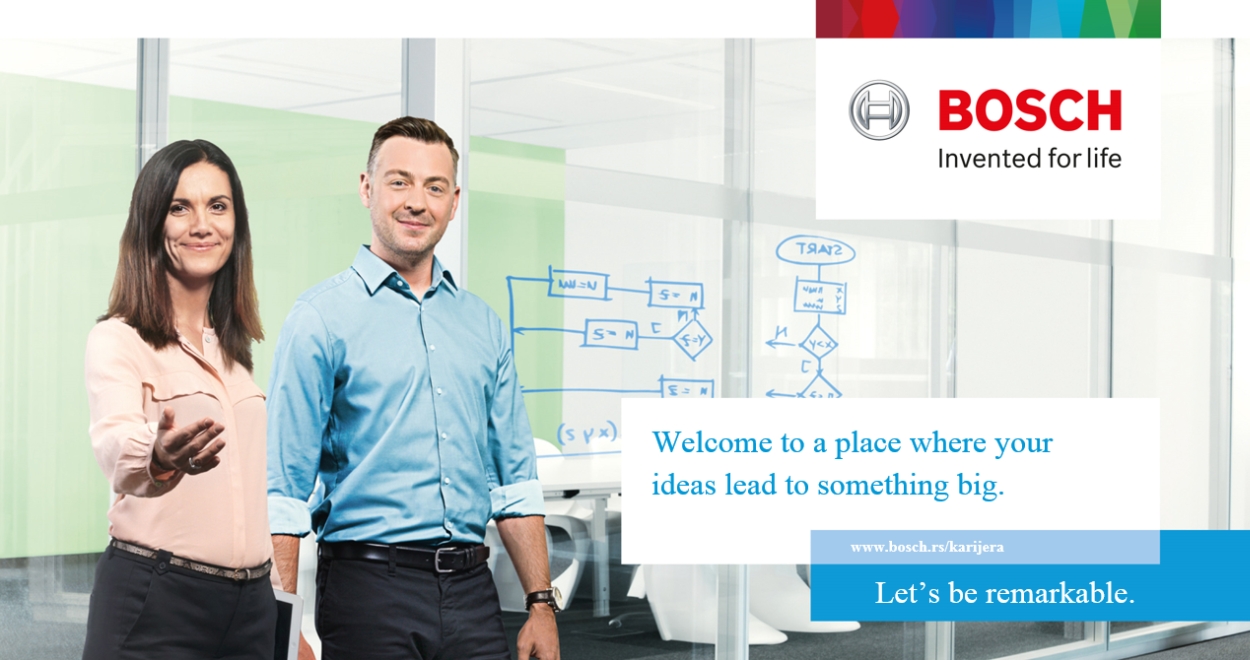 Start something big today. Apply now:
Senior Backend Developer & Operation Engineer
Company Description
Do you want beneficial technologies being shaped by your ideas? Whether in the areas of mobility solutions, consumer goods, industrial technology or energy and building technology – with us, you will have the chance to improve quality of life all across the globe. Welcome to Bosch. At Bosch, we develop, examine and enhance new systems, components and technologies. Our aim is simple – improving lives. Bosch has been present in Serbia since 1991. In 2006, it was set up as a fully foreign-owned subsidiary, Robert Bosch d.o.o. In 2015 Bosch employed almost 800 associates. Today, Bosch in Serbia is active in three of the company's business sectors: Mobility Solutions, Consumer Goods, and Energy and Building Technology. In 2015, two new departments in the field of information and communication technologies were opened. The central areas at our Belgrade location develop and support the company's medium and long-term strategy, thus promoting a sustainable growth.
Job Description

Development

► You will be responsible for the architecture, development and implementation of RESTful API which should be used by mobile and web apps, including storage mechanisms and related items (data models, database choice and topologies, scaling foundation etc.).
► We gonna go cloudy. You will also be responsible for architecture and implementation of a cloud based api/storage system.
► At the end, you should somehow automate maintenance and usage of this cloud based solution, which means:

Continuous Integration

► You will be responsible for the topology and implementation of our CI/CD and collaboration platform
► Integration of CI/CD tools with collaboration tools (Slack, Confluence, JIRA)
► Learn through constant feedback and teamwork in self-empowered Scrum teams

Infrastructure as Code

► Automate the deployment and operations of cloud infrastructure (e.g. Azure, Kubernetes)
► Plan and configure application and deployment in cloud infrastructure
► Monitor our cloud solutions (e.g. New Relic and Prometheus)

Qualifications

► 5+ years of professional experience as software engineer with a passion for IT infrastructure and operations
► Knowledge of programming languages and frameworks (Java/SpringBoot)
► Expertise and hands-on experience with cloud platforms such as Azure and/or AWS
► Knowledge on cloud automation (e.g. Terraform, Chef, Puppet) and containerization technologies (e.g. Docker, Kubernetes)
► Experience with continuous integration and delivery (CI/CD) as well as deployment pipelines (e.g. Jenkins, Bamboo, GitLab)
► Knowledge of web and network technologies (DNS, SSL, WAF, LB, etc.)
► Coordinative strengths and strong intercultural skills
► Willingness to travel and work as a part of a international team (<20% of working time)
► And most important: have fun working with wonderful people in a diverse team
Additional Information
Be part of the Bosch community | Self-development opportunities using training or conference formats suitable to you | International environment | Flexible worktime options | Room for creativity | Inspiring working conditions
Make it happen.
If you are interested to apply, please attach your CV in English. Only shortlisted candidates will be contacted.