Oglas je preuzet sa sajta poslodavca i nije proveren od strane sajta HelloWorld.rs

Job listing has been deactivated.

Mesto:
Beograd
Senioritet:
Intermediate
Datum ažuriranja:
05.03.2020.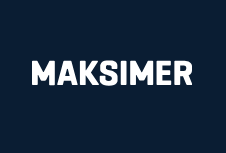 About Maksimer – one of Norway's leading prosecutors within e-commerce
As an employee at Maksimer, you will become a part of a young, but experienced environment. You will get an opportunity to further develop the products, the company, and our customers. Furthermore, you will do so together with Anders, Slobodan and Maja, or Thomas and Uroš. They are some of your future colleagues which you will be able to discuss with every day in order to improve and progress.
At Maksimer, we aim to be open, willing to share and ensure that we all improve at all times. That is the reason why we have become one of Scandinavia's strongest WordPress- and WooCommerce environment, the worlds most used e-commerce solution. That is also why we have developed Maco, a integrationlayer between the customer's ERP system and WooCommerce.
Every day we all seek to evolve, this because we want you to be better and we want our customers to succeed.
Through our customers, we offer challenging development projects, humorous working days and an enthusiastic work environment. Maksimer is located in Bergen, Oslo, Bryne, Stockholm, Belgrade and Lithuania. Today Maksimer consists of 21 employees, and as we are growing, we seek you as our new colleague.
DevOps Engineer
Belgrade
Maksimer is growing and the market shows great interest in our competence in web- and e-commerce. We offer WordPress and WooCommerce as well as our integration between the customer's ERP system and WooCommerce, Maco.io. Maksimer is now seeking you who want to join the development and growth, and consequently succeed with our many customers.
Maksimer is looking for someone to us maintain and improve our servers and CI/CD infrastructure.
Experience and knowledge requirements:
Strong knowledge of PHP, Ubuntu server environments and automation.
Experience with AWS (S3, EC2, RDS/Aurora, ELB …) and autoscaling
Experience with CI/CD tools
Strong Git skills
Experience with log analyzers (e.g. Greylog)
Experience with real time server monitoring and alerting
Experience with WordPress/WooCommerce debugging and profiling is a plus
Ability to work with legacy code bases and give recommendations
Experience working with remote teams
Writing technical documentation
Maintaining a backup scheme and verifying backup integrity
Knowledge of English language
Day to day tasks:
Maintaining the production and staging environments in AWS, DigitalOcean, other cloud providers, and legacy hardware servers in colocation data center.
Assisting colleagues in setting up new hosting instances
Keeping all WordPress installations updated via automation
Keeping Ubuntu servers up to date
Debugging when the above fails
Creating automated tests in deployment pipelines
Server and infrastructure optimizations
Work with the development team to improve the workflow and routines
What we offer:
Full-time position in our Belgrade office
Competitive salaries and conditions
Generous vacation policy
Flexible working hours
Excellent working environment
Chance to extend your knowledge and experience
Chance to visit IT conferences
Contact
For more information about the position, please contact our Belgrade office,
Nenad Conić. Phone:
Mail: nenad@maksimer.no
Deadline for applications: 05.03.2020.
Job listing has been deactivated.