O nama
Founded in 2005 in Los Angeles, IT Labs is a company that produces high-performing, purpose-driven software development teams. Our goal? To enable our clients to compete through tech, while providing a platform for bright heads to grow and develop into top notch professionals.
Everything we do at IT Labs is based on our core values: People, Integrity, Excellence, Proactivity, and Innovation. Thanks to these, we now have more than 150 team members around the world, and we have presence in the US, UK, the Netherlands, Brazil, Ukraine, Belarus, Serbia, and North Macedonia.
We offer complete life-cycle software development, covering the following techs: C# (.NET), Java, JavaScript (Angular, React, nodeJS), Python, PHP, Vue.js, AWS, Google Cloud, Microsoft Azure, Ruby, and others!
Tech stack
.NET
C#
Java
NodeJS
NextJS
Python
React
Angular
TypeScript
MSSQL
PostgresSQL
MongoDB
Cloud-managed RDBMS
AWS RDS
Azure SQL
AWS
Microsoft Azure
Google Cloud
Azure Pipelines
GitHub Actions
GitLab Pipelines
Jenkins
Octopus Deploy
CloudFormation
Azure ARM templates
Terraform
Docker
Kubernetes
Cloud-managed
EKS
AKS
GKE
Beneficije
Soft skills training program
Online shopping discounts
Socialy responsible activities
Naši ljudi
Jelena Trajkovic
Talent Aquisition Specialist
Anika Metikosh
Talent Aquisition Team Lead
Vladimir Glišić
Technical Team Leader
Milan Saric
Frontend Technical Lead
Milan Tomic
Senior Frontend Engineer
Milos Antic
Frontend Technical Lead
Radmila Petrovic
Quality Assurance Team Lead
Jagoda Peric
Quality Assurance Engineer
Proces selekcije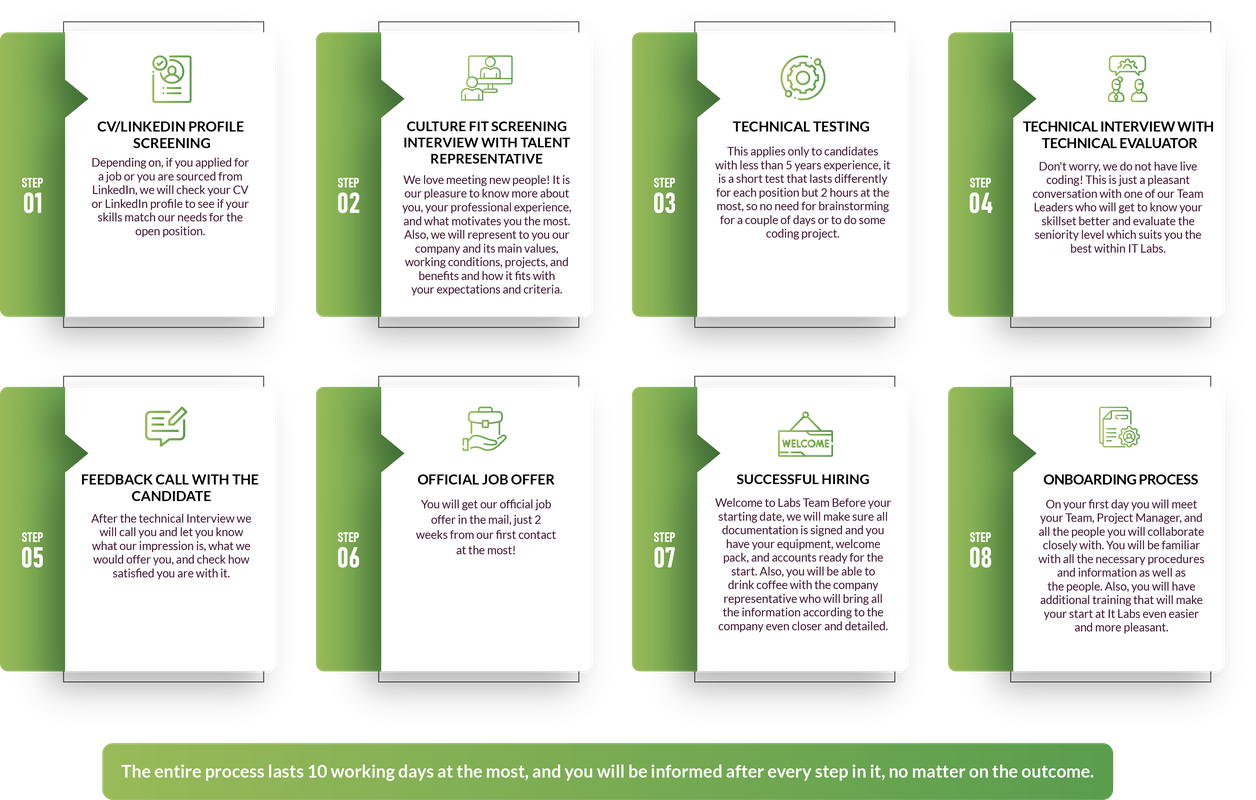 Kontakt
Bulevar Mihajla Pupina 165G, Beograd
Zaprati kompaniju i ne propusti nove važne informacije. Dobićeš email obaveštenje kada poslodavac objavi novi oglas za posao, kada neko podeli platu, iskustvo o radu ili sa intervjua.