0
Postavi pitanje poslodavcu
EPAM Systems d.o.o. Beograd
EPAM Systems d.o.o. Beograd
Ne stidi se, započni razgovor sa poslodavcem 😊 Sve poruke koje se pošalju dok je druga strana offline, stižu mejlom.
Prijavi se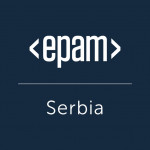 EPAM Systems d.o.o. Beograd
EPAM is a digital platform engineering and top digital and product design agency. With 61,600 engineers, designers and consultants operating in 45+ countries across the Americas, Europe and AsiaPac.
Kontakt
Bulevar Kralja Aleksandra 28, Beograd
Prateći kompanije, dobijaćeš email obaveštenje kada zapraćeni poslodavci objave nove oglase za posao, kao i kada osvanu nove recenzije o njima.
Na taj način ti neće promaći nijedna željena prilika za posao, a usput ćeš se i informisati o uslovima rada.
Poruka uspešno prosleđena
Poruka uspešno prosleđena. Javimo ti se čim dobijemo odgovor